Les Dennis has spoken of how happy he is to have Nancy Xu as his professional partner when he competes on Strictly Come Dancing.
The former Family Fortunes presenter, 69, and 32-year-old Chinese dancer and choreographer Xu are one of the 15 couples performing live for the first time on Saturday's BBC celebrity dancing show.
Dennis told the PA news agency: "Well, when we did the original dance meeting, I thought 'I really liked Nancy, I hope that I get Nancy'.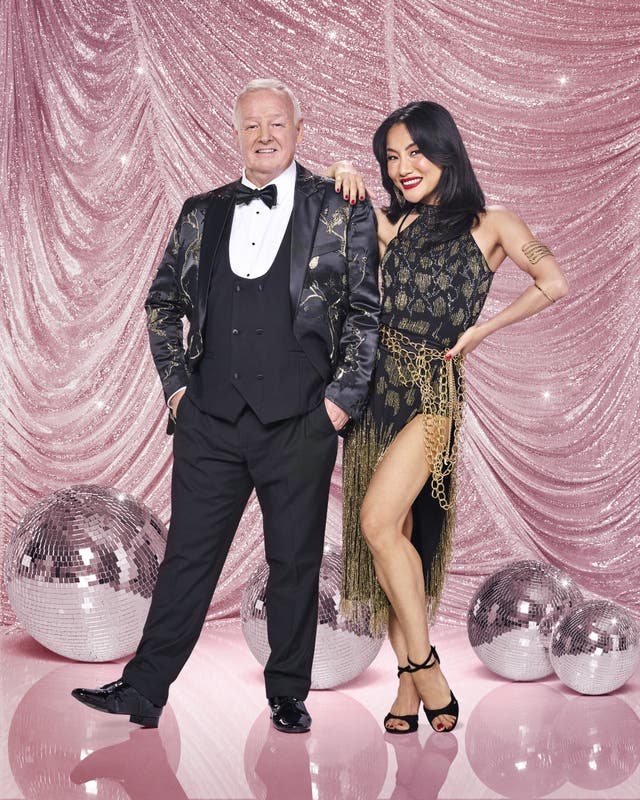 "And then when she walked through the door at the club in Liverpool. I was thrilled. Absolutely thrilled… I didn't guess I just hoped… You were such a good teacher on my first day. You (Nancy) said: 'Oh, you've done a bit of dance'. And that really encouraged me."
He also said he has introduced his professional dancer to his wife, Claire Nicholson, and is set to introduce her to his children. "Claire, my wife already loves you," he told Xu.
Xu revealed she "knew straight away" her partner was Dennis as she looked up which celebrity is from Liverpool ahead of her going to the city to surprise him.
Actor and comedian Dennis also said: "My Strictly partner needs to know, and she already does that. 'I like a laugh. She makes me laugh'.
"So two other things need to know that I can't dance and the third one is that I am willing to learn."
Xu said Dennis should let people know on the show how much he can "push" himself and also told him to never look at her face during rehearsals.
She also said: "This face could could send (the) wrong information because my face can be serious and very serious and don't take anything (I say) in the studio personal, because… my advice, my experience, is everything happens in the studio (me saying) 'Wrong, right, correct or no, do it again', everything happens in the studio."
Dennis is looking to experimenting and "fancies a jive one week", he also said.
However, Xu is more looking at a serious style of dancing for her partner, saying: "The minute I met him (there was) so many different versions that (came) out of my mind.
"I think Argentine Tango is one of the (dances), I really want to see him (do)… because you see he always smiled, he always, you know makes you feel good.
"And (I) want to put him in that kind of environment (of) dangerous, serious."
Dennis explained he wants to at least get to Blackpool – where Strictly airs from latter weeks in the prestigious Tower Ballroom.
He also said: "There's a great feeling of camaraderie with all of us, with the pros with all the contestants but of course it's a competition and I don't want to go out first."
Dennis will face celebrities including reality star Zara McDermott, actress Amanda Abbington, broadcaster Angela Rippon and EastEnders actor Bobby Brazier at the weekend.
– Strictly Come Dancing will return on September 23 on BBC One and BBC iPlayer.