The Writers Guild of America (WGA) has announced that it will resume negotiations with the body representing major Hollywood studios this week.
More than 11,000 members of the WGA have been on strike since May 2 over issues including pay and the threat of artificial intelligence (AI).
On Monday the WGA told its members that it has a "confirmed schedule to bargain this week" with the Alliance of Motion Picture and Television Producers (AMPTP), which is handling negotiations for studios, with discussions due to start on Wednesday.
A negotiations update that was sent to WGA members added: "You might not hear from us in the coming days while we are negotiating, but know that our focus is getting a fair deal for writers as soon as possible.
"We'll reach out again when there is something of significance to report.
"In the meantime, please continue to demonstrate your commitment and unity by coming out to the picket lines – for yourselves and fellow writers, SAG-AFTRA, other unions' members and all those in our community who are impacted by the strikes."
In August AMPTP released details of a "comprehensive package" which it said addressed all the issues the union has identified.
It included "unprecedented terms" in the areas of generative AI, data transparency and minimum staffing, the AMPTP said.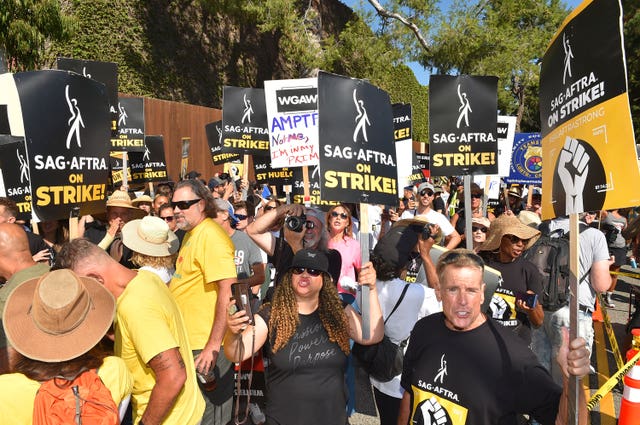 However, the WGA said the counter-offer was "neither nothing nor nearly enough" and that it would "continue to advocate for proposals that fully address our issues rather than accept half measures".
Thousands of US actors also joined the strike on July 14 when the Screen Actor's Guild and the American Federation of Television and Radio Artists (Sag-Aftra), which represents about 160,000 members of the industry, voted to take industrial action after negotiations over new contracts with the AMPTP broke down.
The strike action has resulted in a major stalling of major Hollywood productions, events and award ceremonies, with actors forbidden from engaging in any promotional activity for work.
Scores of big Hollywood names including Academy Award winners Jessica Chastain and Brendan Fraser, and fellow actors Bryan Cranston, Bob Odenkirk and Hilary Duff have been pictured on the picket lines in Los Angeles and New York.